Artist's Life
Benjamin Dominguez
(1894 – 1974)
Benjamin Dominguez (b. Benjamin Ricardo Dominguez Elizarraráz) was born in Guanajuato, Mexico in 1894. During World War I he first visited the United States , traveling to Denver Colorado. He married and had one child Benjamin Jr. After the tragic death of his wife he returned to Mexico and enrolled in La Academia de Artes Plasticas of the University of Mexico between 1922 and 1925. For the next 30 years he and his wife, Anna, raised their 13 children while he perfected his artistic craft with concrete. His most recognized Mexican work is in the Mexico City Zoo, where he constructed the enclosures for the lion and tiger exhibits.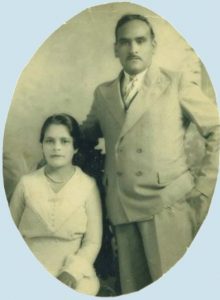 After his eldest son, Benjamin Jr., returned to the United States, to serve his country in WWII, the elder Benjamin decided that immigrating to the U.S. would give his children the best opportunities for the future. In 1956, at the age of 62, Benjamin immigrated to the United States with Anna and their unmarried children. He immediately began working towards becoming a citizen, earning his citizenship in the mid 1960s.
He and his family lived in El Paso, Texas and, while there, Benjamin received his first commission in Oct. 1956, to erect his specialty: a concrete tree sculpture for the Washington Park bear pit (this work no longer remains). The work so impressed the city that Benjamin was commissioned to create other concrete sculptures. And so, the artist began the work that would define his legacy to his adopted country: children's play sculptures.
Benjamin blended the artistic medium of his Mexican heritage and vision of children's active play space of the 1950's United States. The uniqueness of his designs and "unusual shapes [that] provide adventure in climbing for fun" brought him acclaim. Over the next 2 years cities and counties commissioned him to create dozens of pieces: fish, harps, and double slides along with climbing structures that integrated various modes of play. This resulted in his sculpture called "Sputnik": a climbing structure with a shallow slide and an elephant relief. The animal/slide theme came to be Dominguez's trademark, which culminated in his masterpieces in Garden Grove's Atlantis and San Gabriel's Laguna parks.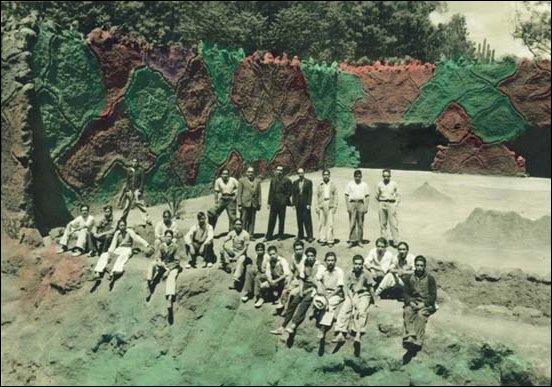 Chapultepec Zoo, Mexico City – 1942
The attention that his El Paso works garnered secured Benjamin's his first California commissions in 1957 for the city of Beverly Hills. Here he returned to his specialty and constructed a "rustic bridge" in Coldwater Park. This work then lead to another bridge in the Las Vegas' Desert Inn Golf Course. He moved his family to Las Vegas as more opportunities for work presented themselves in the developing city. In Nevada, Dominguez began to shift his designs to create "hacer creer" or "make believe" parks. The Las Vegas Sun described these structures as, "the land of 'make believe' where the fancies of children soar beyond the limits of the mundane things." (Las Vegas Sun, April 26, 1960) The Women's Service League funded these giant works, of whales, friendly dragons, mammoth mushrooms and gargantuan turtles. Unfortunately, just a few years ago, the city destroyed these works to make way for a new building development. Benjamin's sons salvaged only one piece before bulldozers plowed the works under in the middle of the night.
Despite his success in Nevada, Benjamin moved to Southern California, settling in La Puente. The rapid suburbanization of Los Angeles presented a greater opportunity. Benjamin, now nearing 70 years of age, was poised to create his master works. Despite his impressive portfolio, Benjamin continued to approach securing work in the tedious manner of the past decade: writing letters in Spanish to Parks and Recreation Departments and then using an English-Spanish dictionary to translate his words. Los Angeles County Supervisor Frank Bonelli answered one of these letters and contracts were signed in 1960 "for the construction of uniquely designed play equipment" that has been an attraction at Legg Lake in Whittier Narrows for over 4 decades. These works were so unique that Locale Magazine stated that they were "designed to delight and flabbergast." In these works, Dominguez began to integrate the imagination of the children themselves, drawing them into a world that brought his figures to life. As adults marveled at the artistic value of these creatures, the children were transported into a different dimension. Yet even with his seemly endless talent and imagination, nothing could have prepared the children of Southern California for the genius of his final two projects.
Benjamin Dominguez & Sons — Artistic Cement Work
About to enter his 7th decade, Benjamin Dominguez was a tireless worker. In a letter written to his children near the end of his life he expressed the importance of work, "An individual's work is the only method in which you can obtain success. No one can obtain it for free." This was the legacy and lesson he wanted to leave for his children and is clearly the mark he would unwittingly place on those who, for generations, have enjoyed his gifts.
Garden Grove was the next city to look to Dominguez for guidance in designing a park. Atlantis would be the theme of a new "park development" that Garden Grove hoped would put them on the map and simultaneously satisfy the need of the city's youth population. With Dominguez, the city planned an enclosed recreational facility to feature Dominguez's unique and imaginative work. The result seemed to accomplish the unthinkable: make an even greater experience for children than Whittier Narrows. In this park, the works were not merely part of the landscape, they were the landscape. He created a serpent slide that wound down a hill and an opened-mouth whale whose tongue was a slide for children. These works did not just allow children to climb on the artist's imagination, now they were invited to wander in his imagination. Garden Grove has made Atlantis one of the central features of their parks and recreation and is a tourist attraction for the city. It continues to receive rave reviews from all those who visit. (Click here to see reviews of Atlantis at Yahoo Travel.) Atlantis remains available to the public for a nominal fee ($1 with a child). The experiences of Atlantis are thought to be one of a kind for those who live in Garden Grove. However, Benjamin, with son Rene, would create his masterpiece for the City of San Gabriel.
The Laguna of San Gabriel would be Benjamin Dominguez's final project. At 70, the years of working with concrete had taken their toll. But the Master had a vision that he would not allow father time to rob from the Children of San Gabriel. In this work, Benjamin was the designer of the experience. A lagoon was the theme, but here Dominguez's work would ultimately manifest the imaginations he had for over a decade tried to liberate. For over 40 years, Benjamin's Laguna has been known as "dinosaur" or "monster" park to children all over the greater San Gabriel Valley. The experience for children is so intensely imaginative that parents still wonder how their children walk away from the many sea creatures visualizing "dinosaurs" instead.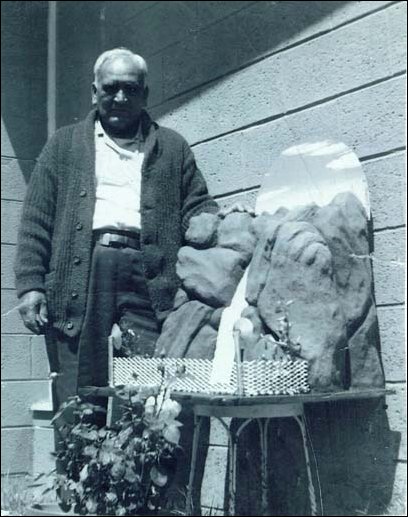 Modland, Texas – Coors model waterfall
The Parks and Recreation Dept. of San Gabriel, under the leadership and vision of its director, Frank H. Carpenter wanted to "do something unique" with their park design. After many trips to Atlantis, the city decided to follow the themed approach that would allow Dominguez to integrate the aspects of his craft that he had been perfecting for over a decade. Familiar creatures, such as "Minnie" the whale, "Stella" the starfish, "Ozzie" the octopus, and Flipper, Speedy and Peanut (3 dolphins) dotted the lagoon. All were greater examples of his previous works. Yet even in his later life, Benjamin challenged his imagination. Truly, the culmination of his life's work, experience, and imagination is clearly illustrated in the integration of a lighthouse serpent slide. The works in San Gabriel stand as the pinnacle and testament of his career.
Benjamin Dominguez died in 1974 at the age of 80. He was buried in South San Gabriel next to the son that brought him to this country. His children, who speak of him as a great father and husband still live in Mexico and the United States.