About Us
In October 2006, the Friends of La Laguna formed in response to the city of San Gabriel's announced demolition of the Laguna de San Gabriel, affectionately known as "dinosaur park", located in Vincent Lugo Park. We held rallies and a petition drive, collecting more than 2,500 signatures on paper and via the internet. Our efforts caught the attention of local media and were featured on KCET's program "Life and Times" and NPR's morning show "Day to Day". In January 2007, we entered into a Memorandum of Understanding with city to preserve and protect the Laguna.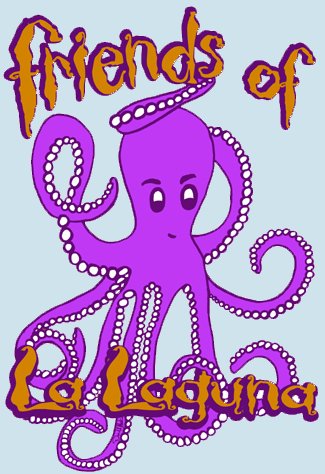 However, the primary obligation for the restoration and preservation of "Dinosaur Park" rests with the Friends of La Laguna. Since our efforts began, we have become a non-profit and received a generous grant from the Annenberg Foundation which has enabled us to start some much needed assessments of the park. Nevertheless, the road to a well-restored and preserved Laguna is long and we are looking for more partners.
Nomination: In 2009 La Laguna playground was successfully nominated to the California Register of Historic Places. It was also designated a local landmark for the City of San Gabriel. These designations have articulated the value that the playground holds for our community and our state. They are significant distinctions for the playground.
Assessment: In 2008, Friends of La Laguna commissioned a Historic Structures Report and Preservation Plan (available online). This assessment was funded through a Third Round California Cultural and Historic Endowment Grant and funding from the Annenberg Foundation. It is a ground-breaking study for the preservation of playgrounds and was honored with awards from the LA Conservancy and the California Preservation Foundation in 2009. We are working toward a capital project to fully implement the preservation plan.
Preservation: Friends of La Laguna is eager to start phase 1 of our Preservation Project for La Laguna. Funding from the National Trust For Historic Preservation LA Fund grants, the Pasadena City College Foundation, the California Cultural and Historic Endowment, and private donations have made a full preservation of the wooden dock and centerpiece dragon slide possible. We will also complete all necessary construction documents needed. This phase 1 project constitutes 1/3 of the funding needed for the 1.2 million dollar project that lies ahead.
Playgrounds like the Laguna are an increasingly rare feature of city landscapes. We felt that the Laguna de San Gabriel, created by Benjamin Dominguez in 1965 is a rare treasure to our community. We are dedicated to protecting this resource and hope that you will join us in being… a friend of la laguna!